It might not be a favorite topic for public discussion, but let's face it: We all need toilets and it's better to know how to ask for the right direction than having to search for it when matters are urgent. So today we are going to learn the expressions used for toilet in German and how to ask for it politely.
The German word for toilet is "die Toilette." (feminine, plural: die Toiletten)
Synonyms for Toilette
As in most languages, there are a handful of other expressions for toilet. Some of them are more "distinguished", some are formal and some are vulgar.
The most important ones are:
das Klosett
Yes, the one from "water closet", only with a K.
das Klo
short form of the above
das Scheisshaus
Originally means the little hut in the garden where people defecated before toilets were installed in-doors. Nowadays still used as a vulgar synonym for toilet.
das WC
das stille Örtchen
literally "the silent place"
der Abort
die Latrine
Expressions used for Toilet in German
Generally, the three words "WC", "Klo", and "Toilette" are interchangeable, although "Klo" is a bit less "sophisticated". So you can use all kinds of combinations, like "Gäste-WC", "Gäste-Klo", or "Gästetoilette". We give you the ones most frequently used.
| English Expressions | German Translations | Gender |
| --- | --- | --- |
| guest toilet | das Gäste-WC | neuter |
| ladies' room | die Damentoilette | feminine |
| men's room | die Herrentoilette | feminine |
| public lavatory (British English) | die öffentliche Toilette | feminine |
| public restroom | die öffentliche Toilette | feminine |
| public toilet | die öffentliche Toilette | feminine |
| restroom break | die Toilettenpause | feminine |
| shelf toilet | der Flachspüler | masculine |
| toilet facility | die Bedürfnisanstalt | feminine |
| washroom | der Waschraum | masculine |
Items for the Toilet in German
| English Expressions | German Translations | Gender |
| --- | --- | --- |
| toilet bowl | das WC-Becken | neuter |
| toilet brush | die WC-Bürste | feminine |
| toilet cleaner | der WC-Reiniger | masculine |
| toilet lid | der Toilettendeckel / der Klodeckel | masculine |
| toilet paper | das Toilettenpapier / das Klopapier | neuter |
| toilet seat | der Toilettensitz / die Klobrille | masculine / feminine |
How to ask for the Toilet in German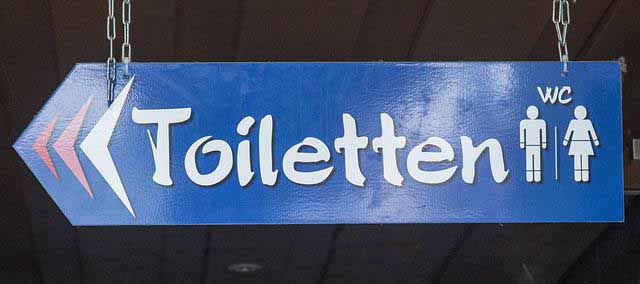 Entschuldigung, wo ist die Toilette? — Excuse me, where is the toilet?
Wo ist das Badezimmer? — Where is the bathroom?
You would only use this in someone's house