These two language learning programs are without a doubt, the most popular in North America. So how do you know which is the better option? Pimsleur or Rosetta Stone? Well, it totally depends. Pimsleur vs Rosetta Stone is kind of a tricky subject. It's hard to compare the two since they both teach in different ways. So it might be better to ask which one is more effective.
Pimsleur vs Rosetta Stone – The Basics
Firstly, Pimsleur teaches you through listening and repeating. Basically how a child might learn a language. Rosetta Stone on the other hand, teaches through pictures, audio, and writing. Pimsleur does have reading lessons but it's not the main focus.
Now that you know the difference, you can know which one is right for you. Are you a more of a visual learner? Rosetta might be a better pick. Pimsleur if you are more of an audio learner. Either way, that is a rudimentary way to look at it and you should still know the pros and cons of each to know which will be better for you.
Before going into detail of each, let's take a look at a quick table for those who want a quick review on our choice for certain attributes
Rosetta Stone vs Pimsleur Comparison Chart
| | | |
| --- | --- | --- |
| | | |
| | PImsleur Approach | Rosetta Stone |
| Price | Check Prices | Check Prices |
| Time of Lessons | | |
| Games Available | | |
| Fun | | |
| Informal Talk | | |
| Reading lessons | | |
| Learn on the go | | |
| Coaching Available | | |
| Customer Service | | |
---
Pros of Pimsleur
Short and effective lessons
All you have to do is listen and repeat
Teaches conversational language and not tourist phrases
Your pronunciation will improve dramatically
Audio based so you can learn anywhere you want
The speakers talk at a normal rate of speed
Pros of Rosetta Stone
Listening comprehension will improve
Has speaking and typing games
It's very enjoyable and fun to use unlike Pimsleur
You can get coaching at the end of units called "sessions"
Has voice recognition software so you get a lot of speaking practice in
Cons of Pimsleur
Very boring – especially for visual learners
Tends to teach in formal language instead of informal
No writing lessons and some languages (Chinese, Japanese, Swiss-German, and Ojibwe) don't offer any reading lessons.
Cons of Rosetta Stone
Very expensive
Need to use it on a computer
Teaches words and phrases you may never use
Does not teach grammar at all (however this could be a pro to many people)
---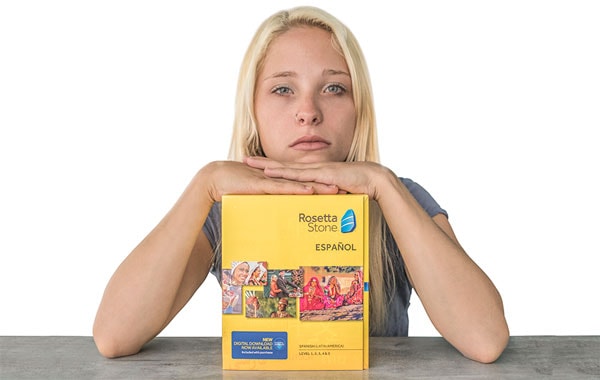 Guarantees
Pimsleur has a guarantee for spoken proficiency if you complete the first 30 lessons of a program. If you don't reach proficiency, they'll give you a full refund. Rosetta Stone offers a 30 day, no-risk, money-back guarantee which is enough time to figure out if you like it.
Conclusion
Overall, I think that it's highly subjective which of the two is better. I honestly think they should be used side by side as they are both great products. If you need to pick one over the other, however, I would say Pimsleur would be the better choice.