Disclaimer: This article contains affiliate links, which means you don't have to pay more, but we get a small commission if you choose to pay for a course. This doesn't influence our reviews in any way.
Pimsleur and Rosetta Stone – these two language learning programs are without a doubt, the most popular in North America. So how do you know which is the better option? How do you compare both Pimsleur, and Rosetta Stone? Well, no worries. I've worked with both programs and I will walk you through them and tell you all you need to know about their strengths and weaknesses.
In order to compare them faire and square, I put them both to the test for 30 days. I wanted to find out which of these two online language learning platforms offers the best user experience, and which suits me better in learning my target language, Rosetta Stone or Pimsleur?
Pimsleur vs Rosetta Stone is kind of a tricky subject. It's hard to compare the two since they both teach in very different ways. Depending on what type of learning suits you more (learning with text or with images), you might prefer one over the other.
But no matter what method they use, they are both built for the same purpose: to teach you a new language (or several languages, if you are very eager).
So it might be better to ask which one is more effective at teaching you a new language. And I have to say, I have a clear favorite here. But let's see what you make of my findings.
Ready to go? Great, let's dig in and take a closer look at what these two courses have to offer to language learners.
Table of Contents
Pimsleur vs Rosetta Stone – The Basics
Firstly, let's take a look at the teaching methods used and how they compare to one another. As I said, they have very different teaching styles.
Pimsleur main focus are audio lessons, but they have several add-ons like flash-cards and pronunciation tests. I'll talk about it in more detail later.
Rosetta Stone on the other hand works primarily with pictures. You will learn new vocabulary with these pictures, you have to choose the correct picture when asked for a certain word or sentence and so on. So all in all it is a much more interactive approach than Pimsleur.
But how effective are these different teachings styles in real-life? Let's take a closer look at both candidates.
The Pimsleur Method
The Pimsleur courses are based on the scientific research about language learning done by Dr. Paul Pimsleur in the 1950's. Dr. Pimsleur found in his research that people learn a new language fastest when they focus on just listening and then repeating what they heard. He believed that reading and especially writing text only hinders language learning at the beginning.
For this reason, the Pimsleur language courses started out as being pure audio lessons on tape, teaching you through listening and repeating. Basically how a child might learn a language. 
This methodology is at the very core of the Pimsleur approach to language learning. In fact, the mobile app still has a "car mode" with which you turn the app into audio mode only, perfect for your car ride home from work or whenever you want to use it. And when I say "car ride," I mean it, because you're supposed to repeat out loud the words you learn in each lesson. So you better be alone in a vehicle. I guess you can do the same thing while riding a bike, but you certainly can't do it on public transport without annoying the other passengers.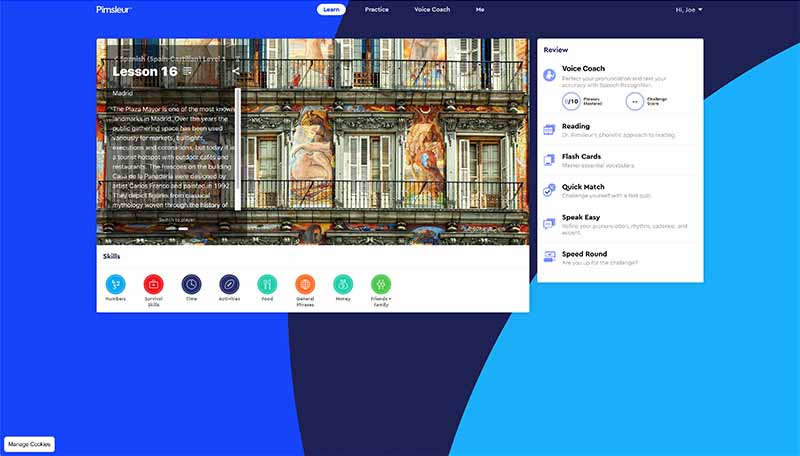 Pimsleur's Lessons
Pimsleur has more than 50 foreign languages to choose from. So even if you are looking for something more exotic than French or Italian, you probably stand a good chance of finding it in their app or online platform. For some languages such as Spanish, there are two versions: Castilian Spanish and Latin-American Spanish. The same holds true for Armenian (Eastern and Western), Chinese (Cantonese and Mandarin), German (German and Swiss German), and Portuguese (Brazilian and European). And Arabic even comes in three different versions (Eastern, Egyptian, and Modern Standard). 
There are five levels for the languages that are learned most often. Each level will have 30 lessons, each lasting roughly 30 minutes to complete. So you have about 15 hours per level, meaning it takes you 75 hours to finish one language course.
Less popular languages offer less levels. Some only consist of one level, which won't take you very far I'm afraid.
Usually what you hear in a course will be spoken by native speakers. Some reviews doubt that, but I can't really comment on that. So far I never tried to learn Haitian-Creole, Icelandic or Twi (a language spoken in Ghana), so I can't comment on the quality of the particular speakers. And even if I did, I wouldn't know how native speakers sound like. The speakers of the languages I have heard so far all seemed to have a natural sounding pronunciation.
As I mentioned one of the defining features of the Pimsleur program is that its lessons are mainly audio lessons. You listen to phrases or short conversations spoken by these native speakers and then have to repeat what you just heard. These lessons are designed to be used daily, due to the repetitive pattern of the course to store the vocabulary long-term in your memory.
This concept of "listen and repeat" is Pimsleur's main focus.
Because of this, Pimsleur is ideal for those who want the convenience of audio exercises. This allows you to listen to your lessons no matter where you are or what you are doing.
It is also very helpful to be able to hear the language you want to speak to get the hang of pronunciation and accent. Many people are able to quickly get through these levels as they can listen to their lessons on the go.
Pimsleur lessons are also very engaging and allow you to interact with them. This can be a great way to practice conversational and listening skills when learning a new language.
Pimsleur even has an Alexa integration, so anyone who has an Amazon Echo device at home can use that to practice their language skills. You can find the commands to use with Alexa here on the Pimsleur website.
The Pimsleur App
For my Spanish language course I used an iPhone to test the Pimsleur app, but I'd imagine these days there are no dramatic differences between iPhone and Android apps anymore.
As all Pimsleur courses are fundamentally audio courses, the app itself isn't too complex and quite easy to use.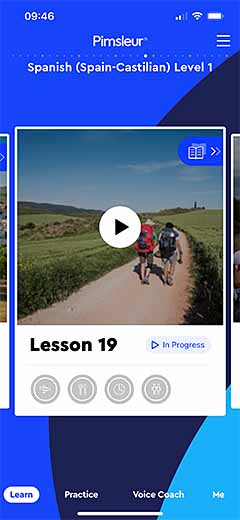 Offline usage of the Pimsleur App
If you want to practice offline (or save the download quota of your cell phone contract), you can download all the audio lessons at once or just individual ones. Deleting them again is just as easy, and can also be done individually or in bulk.
Pimsleur's Practice Section
Although Dr. Pimsleur promoted language learning by the concept of "listen and repeat", the Pimsleur courses also have a practice section. Here you can consolidate what you have learned by 
listening again to words you learned that day,
practicing your vocabulary with the help of flash-cards, 
or play a little quiz.
The most important part though is the pronunciation practice. This is what really sets the app apart from the old-fashioned courses on tape or CD. Now you have the possibility to practice your pronunciation without the need for a teacher or native speaker to listen to you and correct you.
All in all I found the speech recognition of the Pimsleur app to be quite good. The handling is a bit cumbersome, as you have to listen to a sentence or phrase, press a recording button, speak and press the button again to let the app know you finished.
To give you an idea how you are doing, you get a score from 0 to 100. After a little practice I managed to get an 80+ score for most exercises. Well, apart from the proper Spanish pronunciation of the European currency "Euros." Whatever way I tried to pronounce it, the app never seemed satisfied. It could be my fault, of course. Or it could be the fault of the voice recognition software. But that's only a small nuisance, in general I was really satisfied with this part of the app.
Starting with lesson 11 in a level 1 course, Pimsleur also contains reading lessons. The words used there are not necessarily connected to the lesson structure. The emphasis here is to explain how certain character combinations are pronounced in your target language.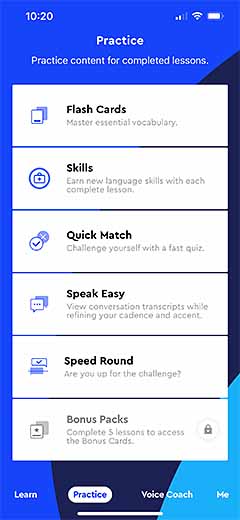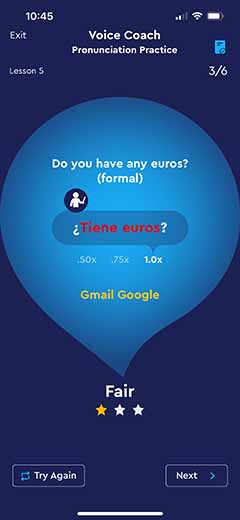 Pimsleur Prices
There are three different subscription plans available.
Audio-Only for $14.95/month
Premium subscription for $19.95/month and the
All Access for $20.95/month
As you can imagine, the audio-only course provides only the lessons you have to listen to.
The premium subscription gives you access to all the various learning enhancements for one language, like flash cards, quizzes, pronunciation practice and reading lessons (if available). 
And the All Access plan does exactly what it says on the tin: it gives you access to all 51 languages and all available material for them! 
If you have a premium or all access subscription, Pimsleur also allows you to share your account with up to three family members, so if you all plan a long vacation abroad you could all learn the language of your destination at the same time.
There is also the option to buy individual language levels, but compared to the subscription model that is rather pricey.
Pimsleur Guarantee
Pimsleur has a guarantee for spoken proficiency if you complete the first 30 lessons of a program. If you don't reach proficiency, they'll give you a full refund.
The Pros and Cons of Pimsleur
Pros of Pimsleur
Short and effective lessons
For the most part, all you have to do is listen and repeat
Teaches real-life conversational language and not tourist phrases
Your pronunciation will improve dramatically
Audio based so you can learn anywhere you want
The speakers talk at a normal rate of speed
Cons of Pimsleur
A bit boring – especially for visual learners
Tends to teach in formal language instead of informal
No writing lessons and only 21 languages reading lessons.
The Rosetta Stone Method
Rosetta Stone's way of teaching you a language is rather different to Pimsleur's method of learning languages. It focuses mainly on showing you images of everyday items and activities and then let's you either pick an image to match the shown text or choose a text to match the image shown.
Rosetta Stone Lessons
Did you also have language teachers at school, who only spoke to you in their target language, no matter what? I did. And it drove me nuts. I do get the idea that a student learns best when he or she is fully immersed in the new language. But the attempt by teachers and students to communicate with each other in some kind of bizarre charade always struck me as rather ridiculous.
Well, other than the Pimsleur courses, which explain general facts in plain English to you, Rosetta Stone is a firm believer in the principle of full immersion! Nothing is explained, you have to guess what a new word means by looking at some images.
The language lessons themselves are a mix of vocabulary explained with images, pronunciation practice, grammar lessons and so on.
The Rosetta Stone App
Once again, I used the iPhone app, but I assume that the Android experience will be much the same. The app has a pretty simple interface and it won't take you long to figure out how to use it.
But here simplicity has gone wrong. The developers took the same design they used for the web interface on large screens and implemented it for smartphones. And they are using the same images as well.
Which means you will often find yourself guessing which image shown might represent the correct answer. Let me show you some screenshots to demonstrate what I mean.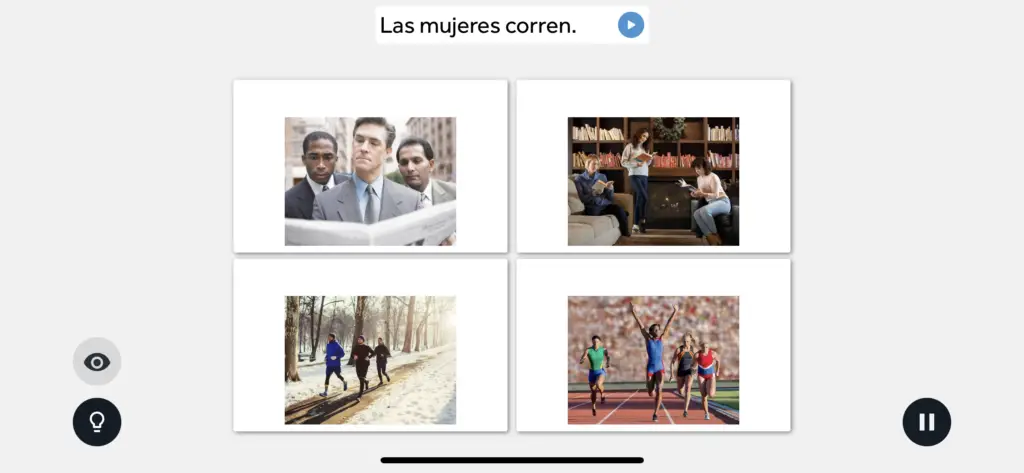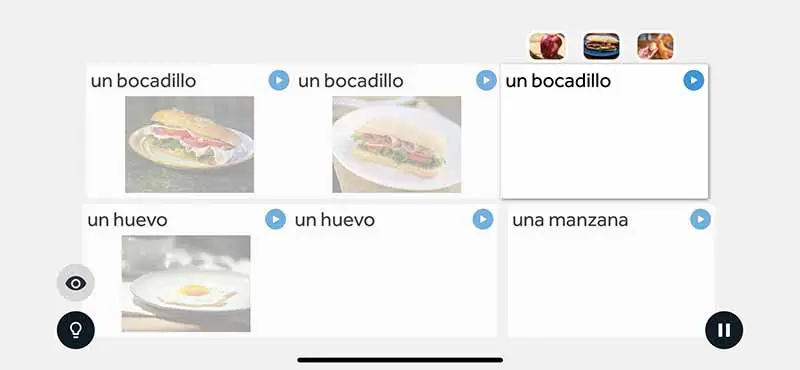 Another thing I found annoying about the app is the fact that you can only be logged in to one device at any time. So if you were studying on your computer at home the night before and then the next day you want to use the app in your lunch break, you can only do so if you logged out correctly the night before.
Rosetta Stone seems to fear that we all set up accounts and then allow all our friends and family to log in on their devices using our credentials. I don't know, but I think there must be more sensible ways to prevent that. This ever-present feeling of distrust towards me as a paying user really annoys me.
Don't leave the Path!
Another thing that really annoyed me about the Rosetta Stone app is that it is riddled with bugs. When you try to jump to another chapter, you will get a warning that you should really adhere to the order intended. That's understandable. 
But if you go ahead anyway, you will end up either in chapter 1, or in the chapter you wanted to go to, but it won't work. I had to log out and log in again and repeat a few questions from the first week until the app eventually brought me back to where I tried to steer off.
The same thing happened occasionally when I reopened the app the next day. Sometimes it seemed to have forgotten where I was and set me back a week. It would show me the same questions from last week, but wouldn't show any progress (as it apparently knew somewhere that I had already finished these lessons.)
Even worse, when I tried to switch my target language from Spanish to Italian, the app seemed to take me there, but then wouldn't play any chapter I had already finished in Spanish.
I had to sign out, log in on my laptop, switch the language there, log off again and log back in on my phone. Wow, that is weird!
In case you're wondering: I've been using version 8.22.0, which was the last available version at the time I wrote this article. How an app with a major version number of 8 can be so full of bugs is beyond me. 
Offline usage of the Rosetta Stone App
Just as with the Pimsleur app, the Rosetta app also offers the possibility to download the Rosetta Stone lessons to your phone, so you can practice offline.
There is no possibility to download or delete all of the lessons at once, so it has to be done individually. Another peculiarity is the fact, that you can only use them for 30 days. After that you'd have to download them again. 
I assume this is to prevent someone from downloading all the content, canceling the subscription and happily continuing to learn. Again, being a paying user, I feel penalized for something less honest characters might do.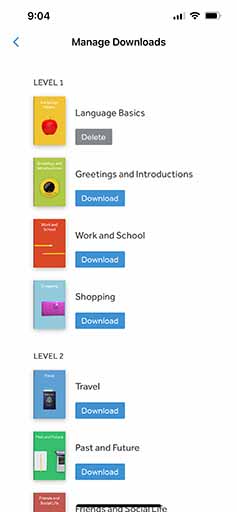 Rosetta Stone Grammar Section
In the grammar lessons you have to pronounce words divided into syllables, choose the correct article for a word according to its gender and so on.
Explaining grammar merely with images seems a bit ambitious to me, but at least some aspects of grammar get covered.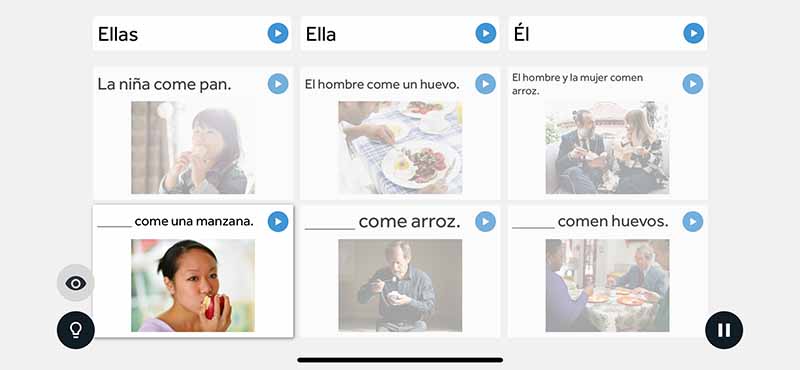 Rosetta Stone Prices
You have the choice between a 3 month, 12 month or lifetime subscription.
The 3 month plan costs around $11.99 per month and gives you access to all learning material for one language. The total cost for 3 months is $35.97
The 12 month plan costs $15.75 per month and you get access to all the learning material for all available languages! The total cost for one year is $189.–
And last but not least there is the lifetime subscription. It grants you access to all Rosetta Stone languages and costs $349.–
A very nice feature is that you can also book live sessions with certified tutors in your target language. These are group sessions not individual ones, but nevertheless you get the chance to ask a professional tutor anything you didn't understand and have a real native speaker listen to your pronunciation.
Rosetta Stone Guarantee
Rosetta Stone offers a 30 day, no-risk, money-back guarantee which is enough time to figure out if you like it.
The Pros and Cons of Rosetta Stone
Pros of Rosetta Stone
Listening comprehension will improve
Has speaking and typing games
A much more interactive approach than Pimsleur
You can get coaching at the end of units called "sessions"
Speech recognition knows when to listen and when to stop, so no need to constantly push a button as with Pimsleur
Cons of Rosetta Stone
Images too small for mobile app
App contains many bugs
You can only be logged in to one device at a time
Teaches words and phrases you may never use
Grammar section isn't too great. Here the "teaching by images" concept reaches it's boundaries.
Pimsleur vs Rosetta Stone – Our Verdict
So, who comes out first of our Pimsleur versus Rosetta Stone comparison? Overall, I think that it's highly subjective which of the two is better because of their very different approaches to teaching you a language.
All things considered though, I would say Pimsleur is the better choice. Listening and repeating what you heard for 30 minutes isn't the most exciting pastime but I like that the Pimsleur method has a clear concept what it teaches you. The individual parts make sense and they nicely combine phrases to meaningful sentences. It all feels very logical. The repetion helps to transfer newly learned vocabulary to your long-term memory, especially in combination with the additional practice modules.
I should mention that grammar is a weak spot of Pimsleur. Their emphasis is clearly on spoken conversation, not on text. Depending on your motivation why you want to learn a language, that might be a disadvantage. But I assume most people want to learn conversing in the local lingo for their holiday, a year at a foreign school or university or a job abroad for a limited period of time. So what you really want to learn quickly is talking to the locals, and not perfect grammar. 
Pimsleur used to be a bit pricey, but they now offer a monthly subscription which makes it very affordable to try it out and test whether their teaching and learning style suits you. They also offer a free seven day course which in my opinion is a great opportunity to test their course. A link to their offer is provided below.
The Rosetta Stone language courses didn't impress me. The iPhone app rather annoyed me due to the too small images and the number of bugs it contains. 
But what was worse, was that after the initial 30 days of Rosetta Stone Spanish I felt completely lost and had no idea which words I learned and why. In my head nothing much seemed to fit or make much sense and I have no idea in which particular situation I will need phrases like "las mujeres corren" (the women run). Ok, maybe when I try flirting with them, but that's a different story.
I assume things might come together in later lessons, but after 30 days of Rosetta Stone I didn't feel much desire to continue with it.
So, my final verdict is: For me Pimsleur is the winner in this 30 day challenge of Pimsleur vs Rosetta Stone.
---
PIMSLEUR – Pros and Cons
Best suited for: Serious language learners who want a no frills language course
---
PRO
50+ target languages available
audio lessons well suited to listen to during commute, while working out, or when doing household chores
logical learning approach, based on scientific studies
voice recognition to practice pronunciation
Alexa and Apple car play support
Premium subscriptions can be shared with 3 family members
CON
audio-only courses are a bit dull
base language always English (apart from the 14 available course for English as a second language)
slightly more expensive than Babbel
Rosetta Stone – Pros and Cons
Best suited for: People who prefer visual learning with lots of images
---
PRO
various kinds of lectures including listening, reading, grammar and more
voice recognition easier to use than Pimsleur's
several pricing options available
you can book coaching sessions with real native speakers
CON
you can only log in on one device at a time
iPhone app quite buggy
images are too small on cell phone screens
choice of vocabulary seems quite random in the first course
---
Disclaimer: This article contains affiliate links, which means you don't have to pay more, but we get a small commission if you choose to pay for a course. This doesn't influence our reviews in any way.