Honey, darling, sweetheart: the typical pet names for men and women are somehow worn out.
But don't despair, there are wonderful alternatives. And this time we'll have a look at some pet names from a country known for it's romantic and passionate lovers: Bella Italia!
That's why we prepared a collection of the most beautiful Italian pet names for you.
Italians love their family, food, wine, music – and life in general. They enjoy spending time with friends and family and having a good time.
So, how about a little bit Amore in your life? Italian nicknames are a melodious, romantic alternative to the same old pet names you've used for your loved one for years.
So let's dive in and spice up your romantic relationship with some Italian sweet-talk.
Table of Contents
Italian Pet Names for Lovers – both Sexes
A unique pet name for your boy- or girlfriend is a way to let them know that you care about them. It will make them feel special because you have taken the time to think of a nickname in Italian and came up with something new and unusual. Invest enough time to pick a name which really suits your special one and which reflects their characteristics you appreciate the most. He or she will be grateful for that.
Amore mio – my love
Angelo – angel
Anima mia – my soul
Cerbiatto – fawn
Cuore mio – my heart
Gioia mia – my joy
Pasticcino – sweet pastry
Tenerezza – tenderness
Tesoruccio – little treasure trove
Topolino — little mouse
Vita mia – my life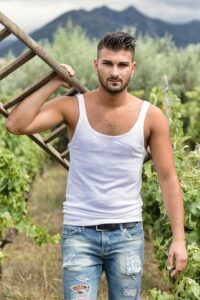 Italian Pet Names for Boyfriends
If you're still trying to decide what you want to call your man then you will find some nice Italian names in the list below. There are lots of different pet names to choose from. When you select a cute name for him make sure the name suits him. You might tease him a little bit, but you shouldn't ridicule him.
Bello – handsome
Bellissimo – beautiful
Ciccino – snookums
Cucciolo – (dog) puppy
Coccolone – cuddles
Cuore mio – my heart
Orsetto – teddy bear
Principe – prince
Tesoro – treasure
Tesorino – little treasure
Tigre – tiger
Zucchero – sugar
Italian Pet Names for Girlfriends
If you're looking for a new sweet name for your girlfriend you might be interested in using an Italian name for her. The Italian language sounds very romantic. And a nickname is usually short and sweet. Most of our Italian nicknames tick all of these boxes.
When you choose a name, you will want to select one that let's her known that you appreciate her. It can be about her good looks or about something in her character that's very special. This kind of nickname for your girlfriend will give her a good feeling when she is around you. When she knows that you are thinking about her she will feel more secure and comfortable. She will also feel special because you took the time to think of a unique nickname for her.
Amica – friend (female)
Bella – handsome
Bellezza – beauty
Cara mia – my dear
Coniglietta dolce – sweet bunny rabbit
Cucciolo – puppy / baby animal
Dolcezza – sweetness
Leprotta – bunny
Micetta – kitten
Pulcino – chick
Pupa – babe
Ragazza – girl / girlfriend
Stella – star
Stellina – little star
Tesora – treasure
Tesorina – little treasure
So, that was our list of cute nicknames in Italian. Did you find some you like? Are you gonna use them?
If you're hooked on Italian now, you might also want to take a look at our Italian love phrases.
Remember, names for lovers come from many sources. They can refer to your love's job, their hobbies, the way they dress, or how they look. It can be about something that is unique to them. No matter what the reason, it is important to remember to use a name that is both fitting and respectful. You do not want your Italian nicknames to be taken in a negative way.