In today's article we will take a look at the names of the months and seasons in Spanish. But we won't stop there. We will also talk a bit more about the advantages each season has to offer for both spaniards and tourists alike. So let's look at the names of the months in Spanish first.
Table of Contents
The 12 Months in Spanish
| | | |
| --- | --- | --- |
| # | Month in English | Month in Spanish |
| 1 | January  | Enero |
| 2 | February | Febrero |
| 3 | March | Marzo |
| 4 | April | Abril |
| 5 | May | Mayo |
| 6 | June | Junio |
| 7 | July | Julio |
| 8 | August | Agosto |
| 9 | September | Septiembre |
| 10 | October | Octubre |
| 11 | November | Noviembre |
| 12 | December | Diciembre |
Next we're going to look at the names of the seasons in Spanish.
But as I said before we shall not only list the translations, we will also examine each season in a little more detail and explore what each of them has to offer, especially when you are visiting the country as a tourist. Spring, summer, autumn and winter, each of them has its perks and its unique offerings for Spanish natives and visitors alike.
Spain is one of the world's most popular travel destinations for tourists from across the globe. Warm sunny weather, good food, wonderful wines, moderate prices and locals who enjoy all of this and love to celebrate life. So, what's not to like?
The 4 Seasons in Spanish
Spring – la Primavera
Spring is a season that many people love to celebrate – for both spring breakers and those who are just looking forward to spending a little time on their vacations. Every year with spring season in full swing, Spain is becoming one of the most popular destination of European holiday seekers.
When does Spring start in Spain?
Officially spring begins on the 20th of March. But in some parts of the country, it's actually the middle of April; and in other areas, it's not until May.
Spring in Spain is a very popular time to visit – especially among tourists who want to travel to this beautiful country. Spain is known to be well-loved by foreigners. And one of the reasons is its beautiful beaches and beautiful Spanish landscapes. It is also said to be the place where most important historical sites were discovered and preserved.
Spring Season in Spain also offers many special activities that will make the a visit even more fun. For instance, there is a famous spring game that goes on in many places – the Gala – a kind of polo that is extremely popular in Spain.
Spring is also the perfect time to go hiking, rafting and canoeing. This will definitely give you a chance to get a real taste of this wonderful country. And as you travel around Spain, it would be wise to check out the wonderful countryside. Spain is well known for its beautiful scenery and architecture. This is why the country is called 'The Garden of Europe'.
It would also be best to check out the different tourist attractions in your chosen area of Spain, so that you will have a lot of choices in your vacation in Spain.
Summer in Spanish – el Verano
Out of the four seasons in Spanish, el Verano (the summer, starting June 21st ) is the time when tourism reaches its peak. For tourists from all over Europe, nothing can be a better option for a great holiday in the sun than the lively Spain! From celebrating the major festivals to simply relaxing on the beaches, all day long, it's just more tempting during summer!
But July and August are also the hottest months. Especially in the south of Spain, temperatures now rise to over 104⁰ F / 40⁰ C and everyday life slows down.
Many younger people leave the big cities at this time and visit their parents or grandparents in the countryside or move into an apartment near the beach. There they then spend the summer. Contacts with families and friends are very important to Spaniards. Therefore, they use the extra free time and the good weather to meet friends and relatives for a cool drink on a terrace. Very popular, for example, is "Tinto de verano", a refreshing mixture of red wine and lemonade.
Some cities seem to be virtually "empty" in the summer, as all the Spaniards have left and you only see foreign tourists on the streets.
Many Spanish companies also change their working hours in the summer: work starts early in the morning, but is finished in the early afternoon. This way you can avoid working during the hottest hours of the day. As a tourist, it is best to adapt to this rhythm. Instead of trying to go shopping at 3 p.m., when everything is closed, it is best to enjoy a siesta.
Autumn in Spanish – el Otoño
Autumn or el Otoño in Spanish starts on September 22nd. It is the perfect time to visit one of the major cities like Sevilla, Valencia, Barcelona or the Spanish capital Madrid. The spanish who spent the summer in the countryside are returning to their city apartments and the streets become more lively again.
But the countryside also has a lot to offer in autumn. Autumn is the time of harvest, so if you're interested in wine you could go to La Rioja and take a tour of the local vineyards and see how the grapes are harvested and enjoy some samples from last year's wines.
It's also a time for collecting mushrooms and especially chestnuts. You can smell roasted chestnuts everywhere and many regions have small feasts where chestnut dishes are served.
Depending on the area you are visiting, temperatures are still moderate or even warm. In the South and South-East temperatures still reach up to 86⁰ F / 30⁰ C and the Mediterranean Sea is still warm enough for swimming, surfing or simply relaxing at the beach.
Autumn is als a good time for culture enthusiasts. All over the country there are film and music festivals, like the San Sebastián International Film Festival in September or the International Jazz Festival in Madrid in November.
Winter in Spanish – el Invierno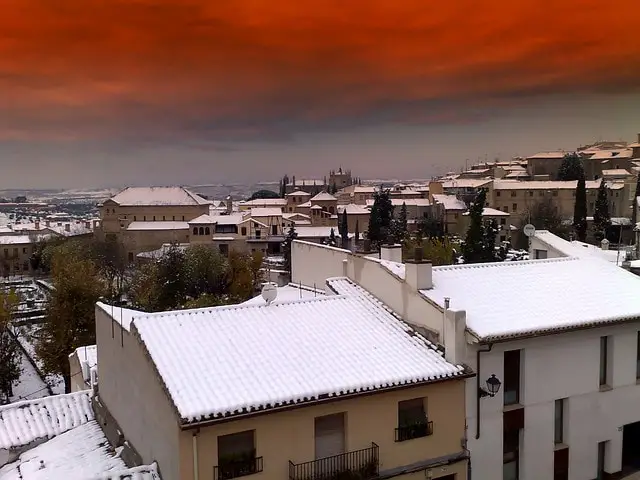 Obviously, el Invierno is the last on our list of months and seasons in Spanish. Winter starts on December 22nd and it's a time of many cultural activities and of course the time for celebrating Christmas.
Starting at the end of November, the air in Spain is filled with Christmas spirit. The streets are decorated with thousands of lights and large illuminated trees. In many cities there are markets in the center with all kinds of typical seasonal products, especially sweets like turrones, polvorones and marzipan. There are ice rinks and giant nativity scenes. And after Christmas the Spanish say farewell to the old year by eating 12 grapes in time with the 12 chimes at midnight on New Year's. On January 6th there are large, colorful processions on the streets and the children receive sweets and small gifts from the three wise men (Reyes Magos).
List of Public Holidays in Spain
Spain is a predominantly catholic country and the church plays an important role in people's life. So most public holidays in Spain are of Christian origin. Besides the country-wide holidays below there are also a number of regional holidays. Whether these holidays really mean a day-off from work, depends on the region.
| | | |
| --- | --- | --- |
| Date | English | Spanish |
| 01. Jan | New Year's Day | Año Nuevo |
| 06. Jan | Epiphany | Día de Reyes |
| 19. Mar | Saint Joseph's Day | Día de San José |
| — | Palm Sunday | Semana Santa |
| — | Maundy Thursday | Jueves Santo |
| — | Good Friday | Viernes Santo |
| — | Easter Sunday | Domingo de Pascua |
| — | Easter Monday | Lunes de Pascua (regional) |
| 01. May | Labour Day | Día del Trabajo |
| 25. Jul | St James the Great | Día del Apóstol Santiago |
| 15. Aug | Assumption of Mary | Asunción de la Virgen |
| 12. Oct | National Day of Spain | Día de la Hispanidad |
| 1. Nov | All Saints' Day | Día de Todos los Santos |
| 6. Dec | Constitution Day | Día de la Constitución |
| 8. Dec | Immaculate Conception | Inmaculada Concepción |
| 24. Dec | Christmas Eve | Nochebuena (no public holiday) |
| 25. Dec | Christmas Day | Navidad |
| 26. Dec | Boxing Day | Sant Esteve |
| 31. Dec | New Year's Eve | Nochevieja (no public holiday) |
This concludes our article about months and seasons in Spanish. We hope you enjoyed it. As you could see, Spain isn't just a perfect place for summer holidays on the beach. The country has a lot to offer and summer isn't the only season when Spain is well worth a visit.