Valentine's day is getting closer and love is in the air. So, apart from cards, chocolates and some kisses, what can you give your boyfriend on that special day? How about a new nickname? We compiled a list of cute names to call your boyfriend in other languages for you. There's a good mix of flattering, sweetness and downright cuddliness. So you should be able to find a suitable pet name for your boyfriend too.
Table of Contents
Pet Names from Australia
Bae
Acronym for your main squeeze, short for "before anyone else".
Boo
A popular nickname between Australian couples.
Possum
Probably not everyone's idea of a cute animal, but Australians seem to think differently and use it as a pet name for their better half.
Cute Names to call your Boyfriend in Dutch
Liefje – Darling
Love is liefde in Dutch, and your significant other is your lief. To make it even cuter, you can use the diminutive form liefje.
Snoepje – Little Candy
Snoepje means "a little candy" in the Dutch language, but it's also being used as a nickname between lovers. So, if your bf is the sweetest boy around, why not call him snoepje?
Cute Names to call your Boyfriend in Finnish
Kultsi – Gold
Your boyfriend is as good as gold? The fins have a word for that!
Muru – Crumb
What is it that makes crumbs irresistible? Whatever it is, have a little nibble…
Unusual Names to call your Boyfriend in French
Doudou — Comfort Blanket
A doudou is a comfort blanket or a cuddly toy for toddlers. Something which gives them a feeling of security and consolation. So a very special pet name indeed.
Ma Puce – My Flea
Ma puce means "my flea". Can comparing your partner to a flea be a loving reference at all? It can, if you are French. Plus I think it's funny and well suited as a nickname for a small child. But the French also use it in romantic circumstances, when it roughly translates to something like sweetheart.
Chouchou – Cabbage Cabbage
Definitely a pretty unusual nickname. But yes, the French like to call their partners chouchou or petit chou (little cabbage).
If you want more French pet names, take a look at our words of endearment in French.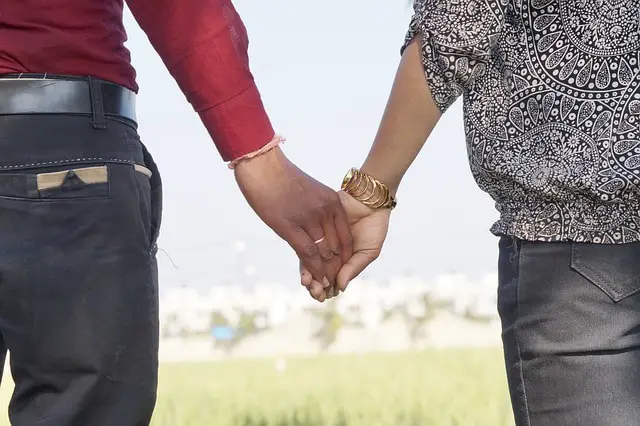 Romantic Names for your BF in German
Hase – Bunny
Bunnies are a popular pet name for lovers in many countries. And the Germans are as fond of fluffy animals as most nations.
Mausebär – Mousebear
You like teddies and you like little mice? German girls combine all this cuddliness into one phantasy animal and call their friends "mouse bear."
Schatz – Treasure
One of the most often heard expressions among german pet names. If you want to make it even more cute, you can use the form "Schatzi!"
Spatz — Sparrow
A Spatz is a cute little bird. Plus it rhymes with Schatz (see above), which is why it's a popular nickname in German.
Amore mio – My Love
The classic term of endearment in the Italian language. "My love". What more do you need to say?
Cucciolo – Puppy
A cucciolo is a puppy. Which makes the expression a good nickname for a cute boyfriend. Plus it sounds nice.
Cuore mio – My Heart
Another classic Italian pet name between lovers. Cuore mio means "my Heart".
Orsetto – Teddy Bear
Orsetto is the Italian expression for "teddy bear". You love to cuddle with your bf? Then this would be a nice pet name. Just make sure you only use it when you're alone, and not in front of his friends.
Zucchero – Sugar
Your boyfriend is super sweet? In that case, sugar (zuccchero in Italian) seems an apt pet name.
You need more? Take a look at our Italian nicknames for boys.
Cute Names to call your Boyfriend in Portuguese
Fofo – Fluffy
Fofo means soft or fluffy in Portuguese. So it's a good choice for a bf you like to cuddle.
Lindo – Handsome
A Portuguese girl thinking her boyfriend is good looking, might address him as lindo.
Names for your Boyfriend from South Africa
Biscuit
If you have a sweet tooth like the South Africans, you may simply call your bf Biscuit. Delicious!
Hartlam – Heart Lamb
I will admit I could look at little lambs for hours, because they are so adorable. The South African women seem to agree with me, as they call someone close to their heart their Hartlam (from the Afrikaans language).
Sweet Names to call your Boyfriend in Spanish
Guapo – Good Looking
Guapo means "good looking". And who doesn't like such a compliment? Yes, even men like to hear it occasionally, although they would never admit it. 😉
Mi Rey – My King
Rey is the Spanish word for king. So if you want to boost your guy's ego a bit, calling him "my king" should do the trick.
Mi Sol – My Sun
Mi sol means "my sun" in Spanish. So if your boyfriend makes you feel warm and bright, this nickname is perfect.
Oso de Peluche – Teddy Bear
It's not only the Italian girls who like to call their boyfriends "teddy bear." Spanish girls love cuddly toys just as much!
Looking for more Spanish nicknames? Just jump to our Spanish love words for boyfriend.
Cute Names to call your Boyfriend in Swedish
Älskling — Darling
I like the sound of Älskling. It sounds like something out of Lord of the Rings.
Snygging – Hottie
Snygg means good looking in Swedish. So a snygging can be translated as hottie.
Sötnos – Sweetie
Söt means sweet and nos is the Swedish word for nose or mouth. So a sötnos is a sweet nose.
This concludes our compilation of cute names to call your boyfriend from around the world. We hope you found one or more new pet names for your bf. Happy Valentine's day!